Home . GPS . Download . Business . Partners . Contact . Family . AVL . Links . History . AsOnTV . Holidays . Snoopy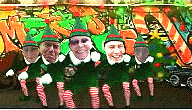 2014 News from the Lovelock Family in Sunninghill ....
Scroll down and just look at the pictures ... read the words, if you wish ...
Click on the elves to see us dance ...
if you follow all the links, it will cost you hours :-)
This is the picture you may have got on paper, with the link to this www.gpss.co.uk/xmas14.htm if we thought you might not be on the Net ...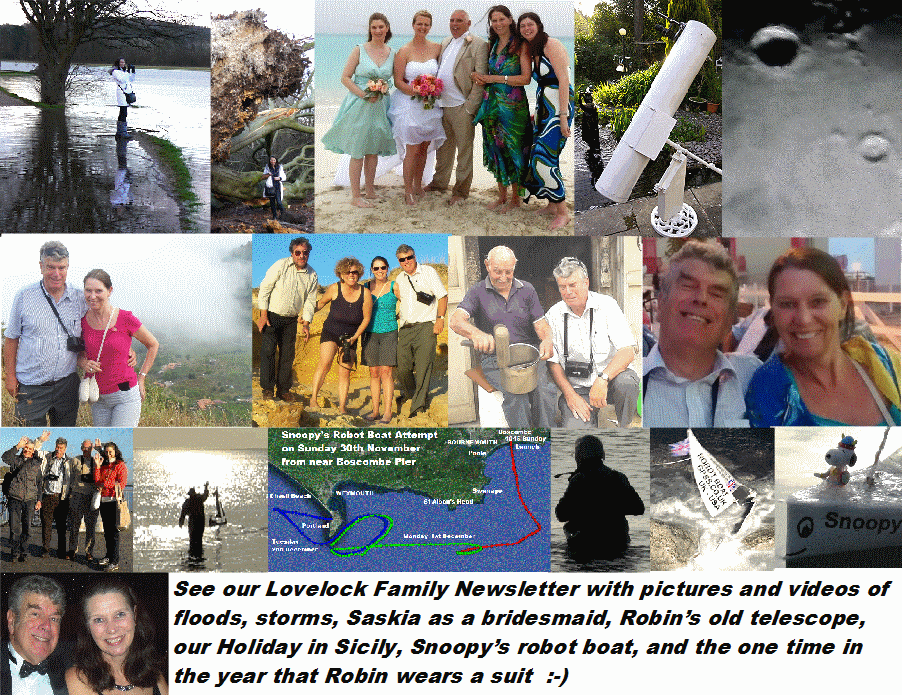 ... and this is the version below, with more pictures, 2014 News, and links to more pages to help you get lost !

We were safe from the 2014 floods, up on Sunninghill, but we checked out familiar places, like The Thames, near the Flowerpot Pub, not far from Henley ...

The storms brought trees down near us, and this huge one in the Chilterns.
June, with Samantha and Saskia, decide to take a 12 day holiday in warmer climbs: first the Bahamas, and then the Turks and Caicos Islands. This was so Saskia, as a bridesmaid, could attend the wedding of Cheryl and Andy. Robin preferred to stay at home, messing about with his robot Boat, skippered by Snoopy the Viking.
Robin decided to rebuild the old telescope, that he had constructed as a boy in the 60s. He was amazed to see it worked better than back then ! Checkout Robin's old telescope page.
As always, the highlight of our year is our holiday in Sicily. I think you will enjoy visiting our Holiday page, scrolling down the pages of pictures, for recent holidays, including this. Play the videos of our friends trying to get Robin to speak Sicilian dialect !
Robin's hobby obsession is still getting Snoopy to sail his little Robot boat across the Atlantic. We made three attempts this year: the first in September lasted 24 hours, but ended up on the Isle of Wight. Robin's equally crazy friend, Dick, rescued Snoopy, and brought him home to be repaired and try again. The second attempt was short lived - but the third, at the end of November, was the best yet. Snoopy was launched from near Bournemouth, and got as far as Weymouth - before crashing on rocks. Yep! Dick rescued him again, and brought Snoopy home, to try again early next year. Checkout the many pictures and videos, on Snoopy's Robot Boat Pages.
At one point, after Snoopy had passed Portland Bill, he was seen to be heading towards Exeter. Maybe to say hello to that amazing woman Pam Coughlan, on Robin's NHS campaign site www.nhscare.info.
The 15 minutes from our 30 minute home video of "Sicily in 2014" gives you a "flavour" of why we enjoy Sicily so much: or just see some 2014 Holiday Pictures.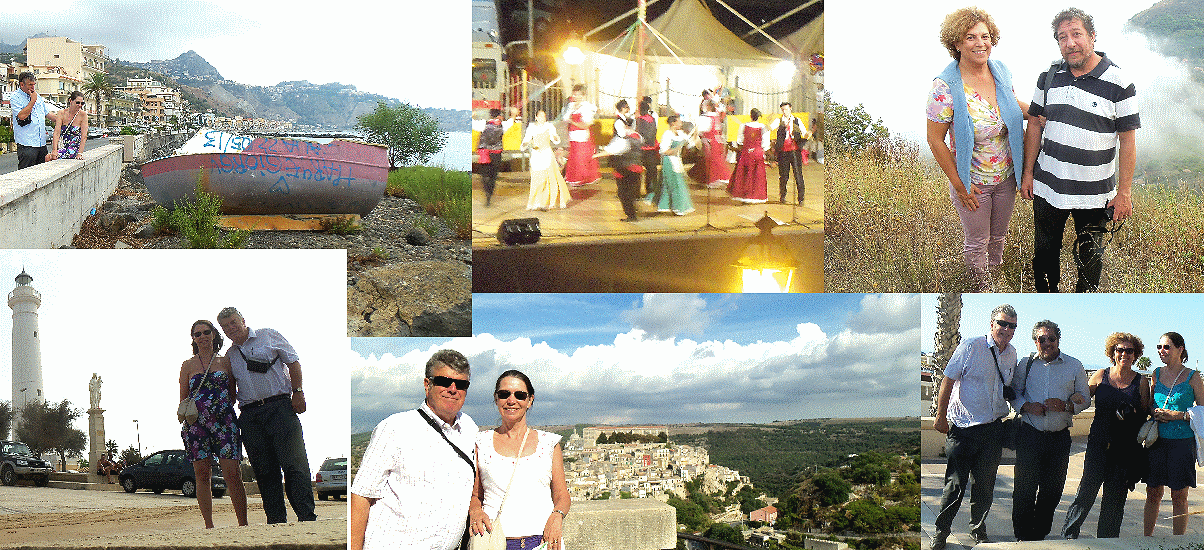 Snoopy's Robot Boats: See the Good November 2014 Atlantic Attempt Page for the full story in pictures. Snoopy was launched on Sunday 30th November from Boscombe Pier, and crash landed on rocks at Portland on Tuesday night. Snoopy was then rescued by Robin's friend Dick, almost undamaged. Snoopy will try again, on this boat, in early 2015.

June and Samantha are members of the Royal Ascot Tennis Club. It sounds grand, but it cannot be too exclusive, since Robin gets invited to social events, and has been known to go onto their courts. It seems it's not so easy for him to take a game off June now. June and Samantha went up to London, to watch championships at the Queen's Club, and then, later in the year, at the O2. That's when they visited the Tower of London, to see the poppys, further down this page.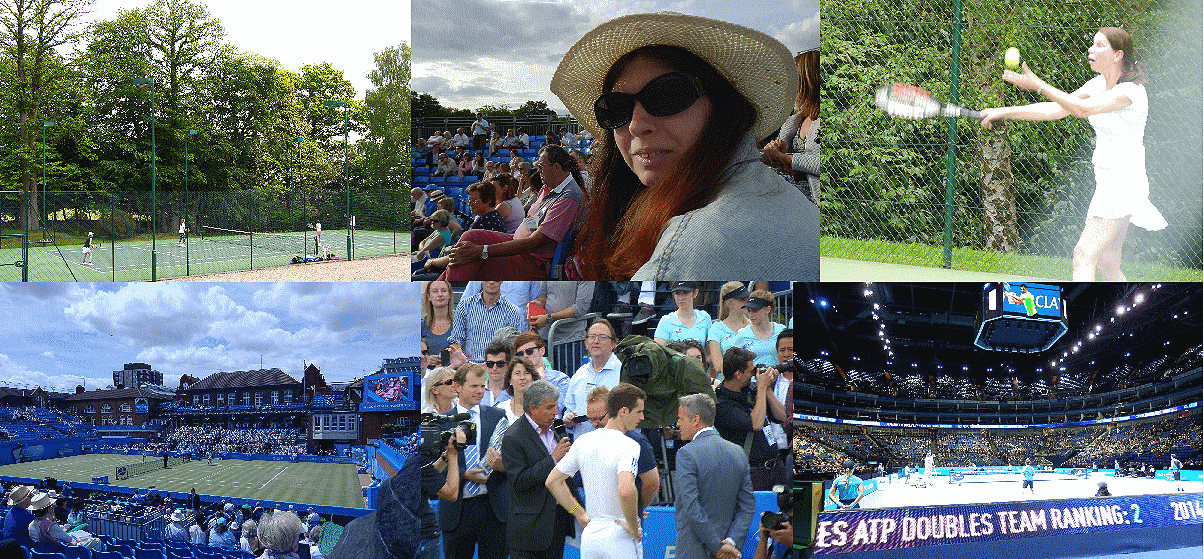 Michelle came down from Coventry a few times, and accompanied us on one or two NGS trips, as here. We usually have her do electrical or plumbing jobs, around the house, like fixing leaks. This year she did a massive job that involved changing the hot water cylinder. Since being asked to do full time teaching at the college, she's not had time to do up her own house, where she remains "Landlady". It seems she is now "Head of Department" there, because nobody else knows anything about physics :-)

Robin'd daily routine includes having his coffee, while doing a high-speed replay of the night's CCTV video. Some animals, like cats and foxes, appear every night - but there are sometimes "unusual interactions", like when this hedgehog startled a cat. Deer appear once or twice a year - to munch June's roses. Far less frequent - nearer every 10 years - is the badger, and a local thief. Any interesting video goes up onto youtube. The thief "struck lucky" with a few of our neighbours' cars, but he should have known there is nothing of value at our place :-) Play the Badger Video, and Hedgehog stalks Cat. Sorry no link here to the "Thief Video", given to our neighbours and the police that morning, to enhance.

This picture from Turks and Caicos Islands, when Saskia was a bridesmaid. This low resolution photo is not to hide wrinkles :-)
June still works for Axon, the Dutch TV broadcast equipment company, and one of the "perks" is a weekend in Holland, for an "Axon Party". Robin went suitably dressed for the heavy cloud-burst, when rain poured in through the roof. Checkout the Axon Party Video : As always, great fun was had by all - Axon managing to keep a real "Family Feel" to the company. June was rubbish at the "Jumpy Joy" game. It seems the kids had been briefed to release all the sticks at once ! It was great to see them "stuff their faces" - the kids too :-)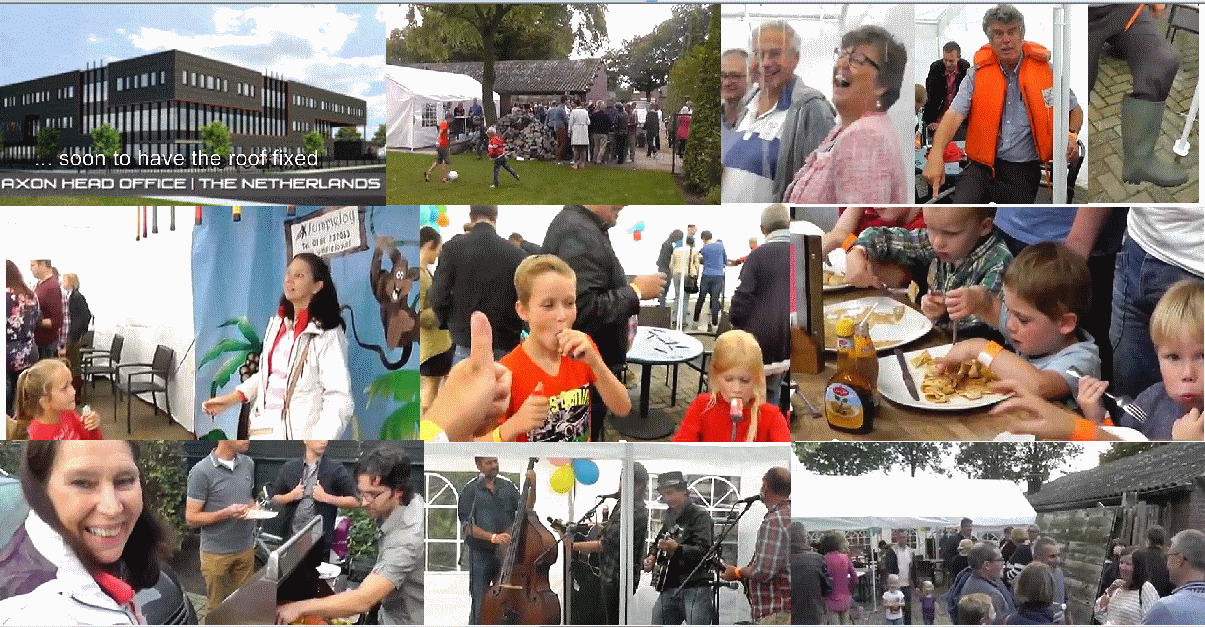 June and Robin took a long diversion, on their return from the Axon Party, to the hills around Maastricht, looking for old NATO bunkers and tunnels, dating back to Napolionic times. They then came back via Ypres, or "Wipers", so June could see her relatives's name on the Menen Gate. There are lovely walks, along the moat, either side of the Gate.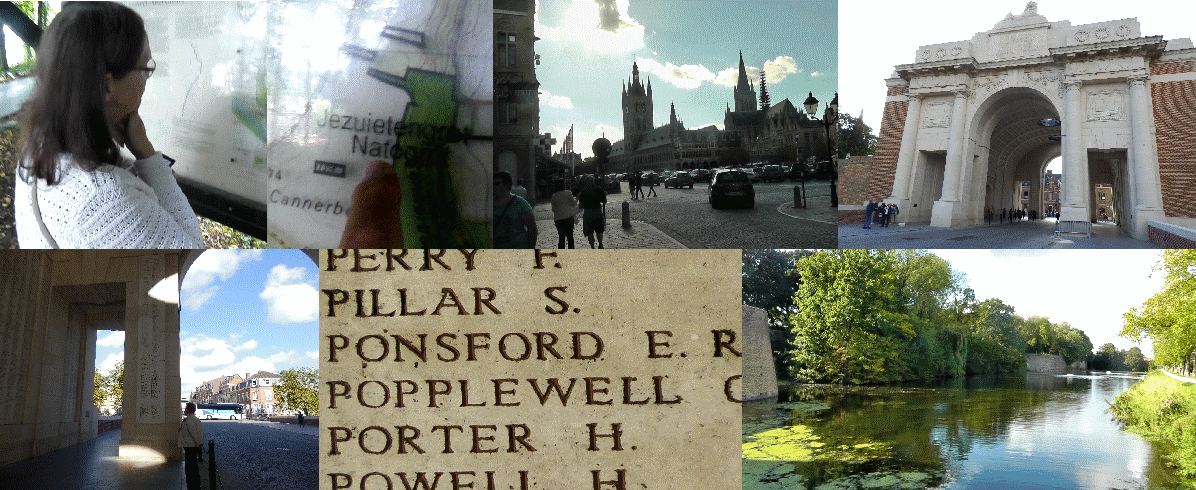 Robin found himself updating his old On Water page, with old VHS video and older photos. That's Samantha at the helm.

Scott and Saskia have separated, in the past year or so, but are still good friends. Here they are with us, on the family day trip to Blenheim Palace we made this year ...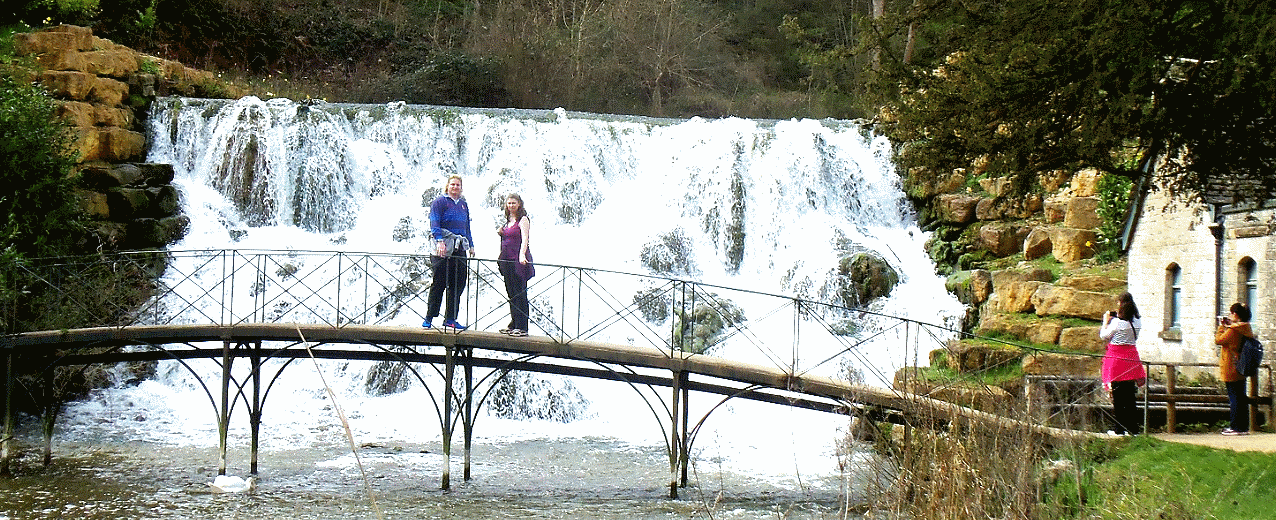 Our pussy cat, Gingy, is now very old, at fifteen. He was christened Fartalot by Michelle and Robin, but June and Samantha call him Gingy. This picture was taken by Michelle, and that's Gary and Saskia in the background. Gary has moved in with Saskia, and they have his two young boys there, every other week: very exhausting, no doubt :-)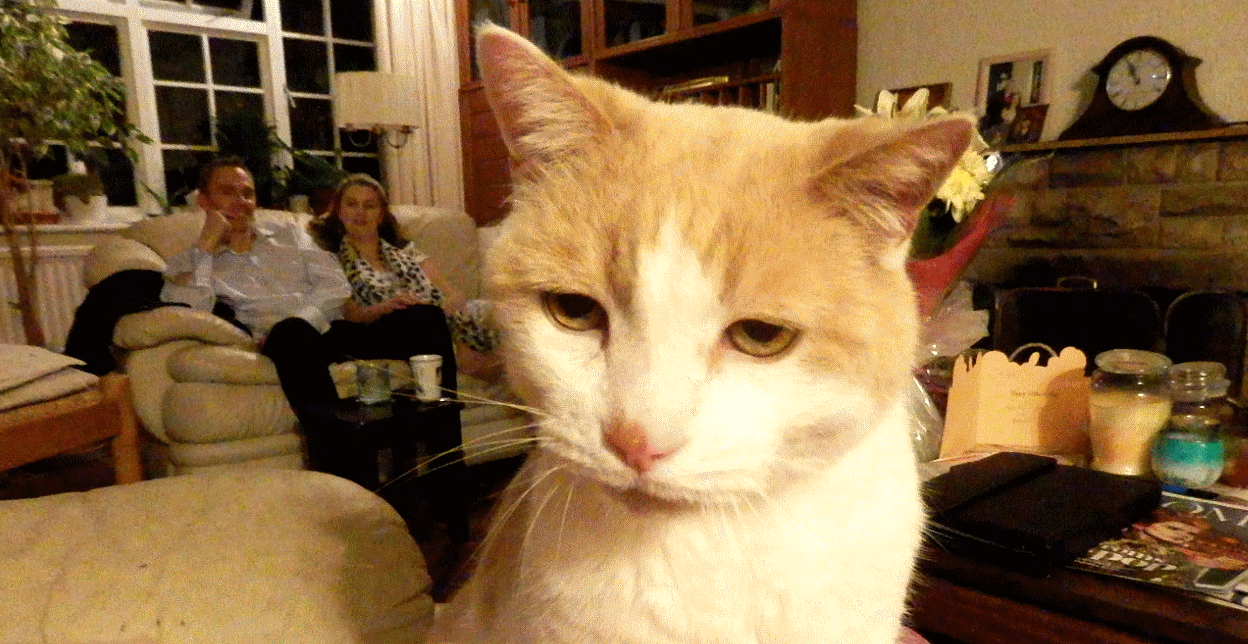 Robin set up a new "Grumpy Old Man" page, after curiosity got the better of him. You may find some of it "Quite Interesting".

June took this picture of the rememberance poppies, at the Tower of London, when she and Samantha went to the O2 to watch tennis ...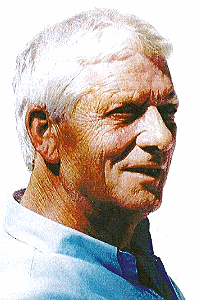 Robin does not usually talk of those who passed away, in these Christmas newsletters, other than, of course, close family. However, this year, he had to mention George Gourier, the Frenchman, who died this year, aged 75. There are many friends and family who are loved and respected, but, of all the people Robin has known, George is the person he admires the most. George was able to maintain a cheerful spirit, and mischievous sense of humour, despite the pain and frustration of poor health, including first losing one leg, then the other, and then one eye due to a stroke. Robin first met George in the 1990s, when he was in the next hospital bed to Robin's dad. George was a well known character in Bracknell, on his mobility scooter, and had an amazing life story, some of which he would share. He ran away from home as a boy in France, and went to sea. His career included serving in the French Foreign Legion, a mercenary, many years in the French merchant navy, until he eventually came to the UK. There he married his lovely wife Lesley, and he had jobs which included being a policeman based at Bracknell. He never lost his strong French accent, which sometimes made him difficult to understand. Bracknell Police Station would get George to make 'phone calls to Wokingham Station - few would believe he was a copper. He must have been "as tough as nails", but you might not have thought it, from his gentle manner, and humour. Robin remembers a 'phone call from hospital by George, soon after he had his second leg amputated: "Robin, it was all my fault...". "Why?", I replied, "You should have seen the doctor earlier?". "No", replied George, "I should have known how much English surgeons love frogs legs". Robin would occasionally drop in to George and Lesley, for coffee and a chat. It had to be a Monday, because the rest of the week, George was whizzing around Bracknell on his mobility scooter, swapping banter with the other old boys. There is much more that could be said here, but maybe this is not the place to say it. Thank you for inspiration, George.

One of many weekend visits, Robin and June made, to gardens open under the NGS charity scheme ...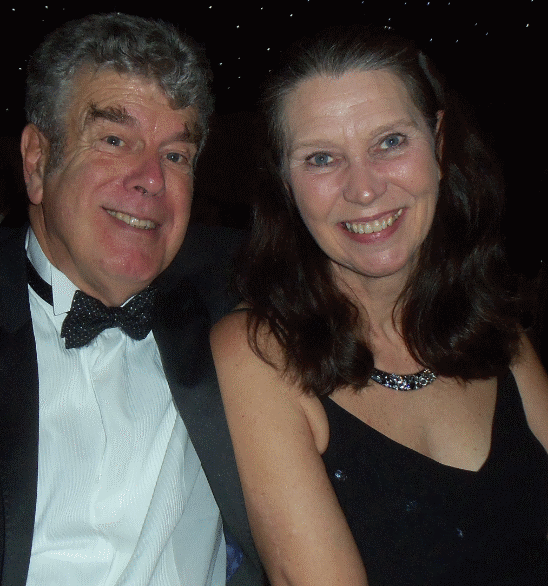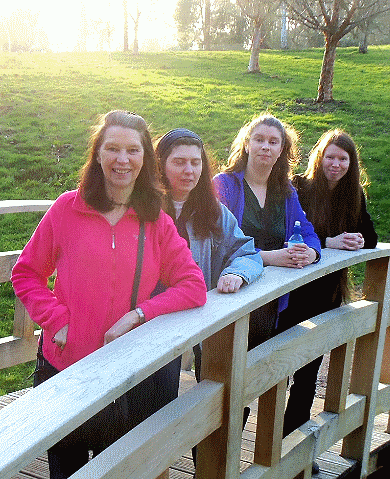 All our love and good wishes from Robin and June.
Have a Merry Christmas and Happy New Year !
You may enjoy our advert for Robin's Reliable Rusty Runner :-)
Enjoy the Holiday and Snoopy pages with videos.
Check out the video of us dancing, dressed as elves.
Robin also has LOTS of silly videos on his youtube channel: www.youtube.com/user/RobinLovelock :-)