Home GPS Download Business Partners Contact Family AVL Links History AsOnTV
The Highest Challenge - 47 Peaks
Updated 1500 Monday 15th February 1999 UK Time
The Highest Challenge story appeared on this web site almost a year ago. You can read all about it on The Highest Challenge official web site linked below. They had big problems in Turkey, when the team split up, but they are all now safe home in the UK.
On May 1st '98, starting in Iceland, an intrepid bunch of four men started their epic attempt to set a new world record in scaling the highest peaks in 47 European countries. They used GPSS to assist navigation on 20,000 miles of road, in an 'against the clock' attempt to establish a new entry in the Guiness Book of Records. The information below is a short summary.
For more information on this expedition please visit the official web site on www.highest-challenge.org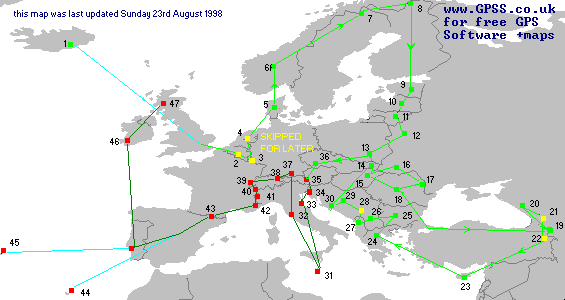 The original team was Rod Baber, Phil Bowen, Giles Pittman and Chris Goodwin.
The planned route was :
1.Fly Luton to Hvanndalshnukar Iceland. Return to London, 2.London to Botrage in Belgium (skipped), 3.Huldange in Luxembourg (skipped), 4.Vaaldoserberg in The Netherlands (skipped), 5.Yding Sovhoj in Denmark, 6.Galdhoppigen in Norway, 7.Kebnekaise in Sweden, 8.Haltiatunturi in Finland, 9.Munnamagi in Estonia, 10.Gaizina Kalns (Osveyskoye?) in Latvia, 11.Juozapine in Lithuania, 12.Dzyarzhynskaya in Belarus, 13.Rhysys in Poland (skipped), 14.Gerlachovka in Slovakia (skipped), 15.Kekes in Hungary, 16.Hoverla in Ukraine, 17.Mt. Balaneseshty in Moldova, 18.Moldoveanu in Romania, 19.Mt. Aragats in Armenia, 20.Mt. Elberus in Russia, 21.Shkhara in Georgia (next year), 22.Agridagi in Turkey (not yet), 23.D/B to Mt. Olympus in Cyprus, 24.D/B to Mt. Olympus in Greece, 25.Rudoka in Macedonia, 26.Mt. Musala in Bulgaria, 27.Mt. Korab in Albania, 28.Daravica in Yugoslavia (after war), 29.Maglic in Bosnia-Herzegovnia, 30.Dinara in Croatia, then 13,14, 36, 35, 34, 33, 31, 32 31.D/B to Ta Gidem in Malta, 32.D/B to Castelgandolfo in Vatican, 33.Monte Tltano in San Marino, 34.Triglav in Slovenia, 35.Grossglockner in Austria, 36.Snezka in Czech Republic, 37.Zugspitze in Germany, 38.Grauspitze in Liechtenstein, 39.Dufourspitze in Switzerland, 40.Mt. Blanc in France, 41.Grand Paradiso in Italy, 42.Chemin de Revroires in Monaco, 43.Pla del' Estancy in Andorra, 44.Madrid then Fly to Pico Tiede in Canaries in Spain and rtn to Madrid, 45.Lisbon then Fly to Pico in Azores in Portugal and rtn to Lisbon, 46.Carrauntuohill in Ireland, 47.Ben Nevis in UK.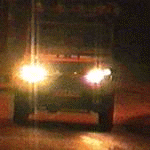 Not exactly camera conditions when this picture was taken late one night in April 1998, near Ascot, after kitting out the vehicle with GPS receivers. The Team made good use of the GPS receivers, and GPSS running on Chris Goodwin's Laptop PC, for their long trek around northern and eastern Europe - until Turkey - where the 'big problems' began. In summary, the project hit a major crisis when the vehicle deisel engine 'blew up', after some '24 hour driving' with the 'red light on' :-) It took a few days to fix the engine, on what was Chris Goodwin's vehicle. Chris had been cameraman, among many other roles, including the para-medic and 'GPS expert'. The team split up, with Chris returning to England, along with all the video footage taken up until Turkey, and his Laptop PC holding the GPS Software. He left the team use of the vehicle, and one of the GPS receivers. They decided to continue without Chris. They had a Laptop PC, a GPS, but no browser access to the Net. We had hoped they might have been able to meet with someone who would load GPSS and maps onto their other Laptop. CDROMs were sent first to Gary in Cyprus, and when this rendezvous was missed, to Luigi in Italy - but it seems this meeting will also not take place. The switch to '24 hour driving' again, means that there was little scope for meetings or press coverage. The team had to miss out the highest peaks in Turkey - due to the KKK, and in Yugoslavia - due to the Kosova crisis. But they hope to do a repeat expedition in1999 to complete the project.
Robin is extremely grateful to all those who offered help to the Team, including financial assistance, mapping and detailed 'local knowledge', contacts with the local press, or simply offers to be hosts to the team when they passed through their country. He is sorry that those offers were not taken up on this occasion.
Robin has been in recent contact with Chris Goodwin, other sponsers, and the company who had hoped to make a few TV programs about the expedition. It is hoped that video material shot by Chris and others will eventually hit TV screens next year, and before then, we may be able to put up some pictures on this web site, taken from the video.
If Robin gets any more news on the Teams progress, he will update this page.
You may download all mapping used by the team from the European Download Page
Please do not forget that GPSS and all this data is used at your own risk,
and is no substitute for good paper maps :-)
Take Care, Safe Travelling & Safe Climbing.