I am enthusiastic about geocaching because it has enormous scope to popularise GPS to a much wider audience: this helps my GPS Software business. It is also great fun :-)
I'm a great believer in meeting people face-to-face, or at least speaking directly on the 'phone. It's often the quickest and most direct way to find out what's really going on behind the facade of a web site - not all are as "up front" about their owners as mine :-)
My most recent 'phone conversations were with Dave Ulmer, who started it all when he planted the first geocache in May 2000. He has some interesting ideas, including that sometimes the "place" is much more important than "what's in the box".
In September 2001 there were 'phone calls between myself Robin, Jeremy Irish and Bryan Roth who own and maintain the geocaching.com web site (Grounded Inc). Contact was also been made with Dan Foster, founder of TopoGrafix, the software company behind EasyGPS, ExpertGPS, and PanTerra. More recently there have been 'phone conversations with the owners of two other Geocaching web sites: Quinn Stone of navicache.com and Jeremy Hurst of a third site now closed down.
I understand that all these enterprises are even smaller in size and resources than my own small GPS Software business. However this may change rapidly if geocaching takes off worldwide, and the numbers of participants rise into the hundreds of thousands, or even millions. These pioneers are to be congratulated on what they have already achieved with skill, hard work and a significant part of their own spare time.
© Robin Lovelock, Sunninghill Systems. www.gpss.co.uk
Robin Lovelock, Sunninghill Systems, 22 Armitage Court, Sunninghill, Ascot, Berks SL5 9TA, United Kingdom.

Footnote from Robin on 11th October 2015: Today we visited the "Leviathan" geocache near Esher, the second time - the first was in 2001 ! This must be the best cache in the UK - it still has that original 2001 log book with our visit report from then - Michelle, June and myself, could not believe it ! We read our 2001 entry in which Michelle said she's found the cache before me, then my words after her's, saying nobody liked a smart a*** :-) Thanks for planting this cache - just like the old days in 2001.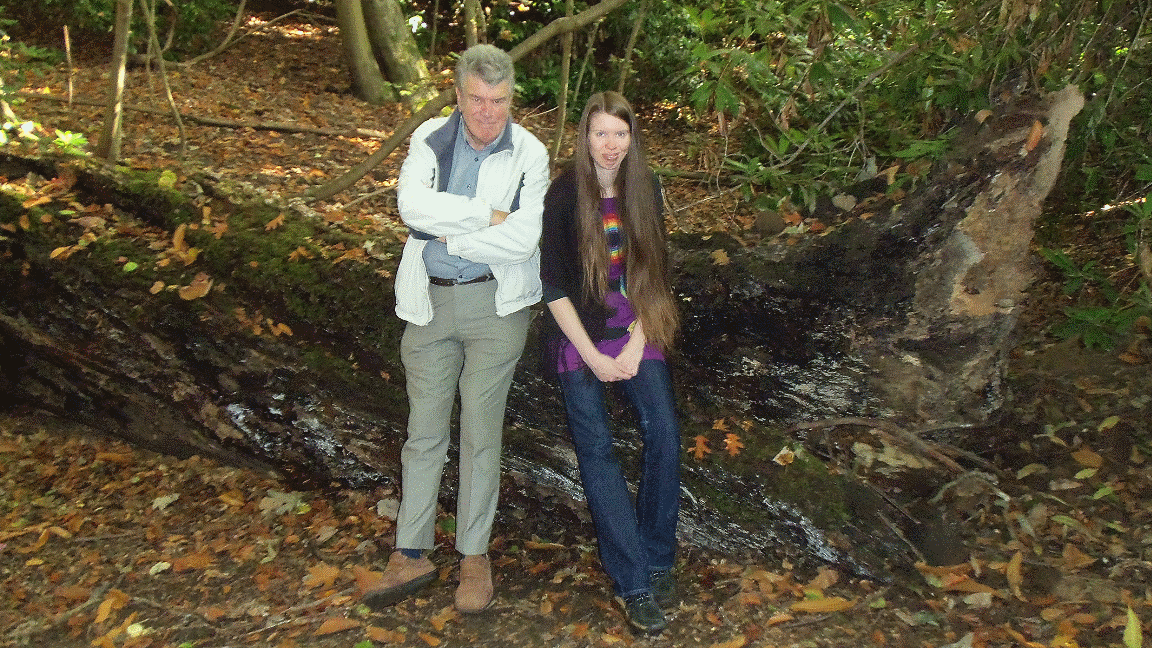 It's great to see those log enties still there in the geocaching.com logs for Leviathan ...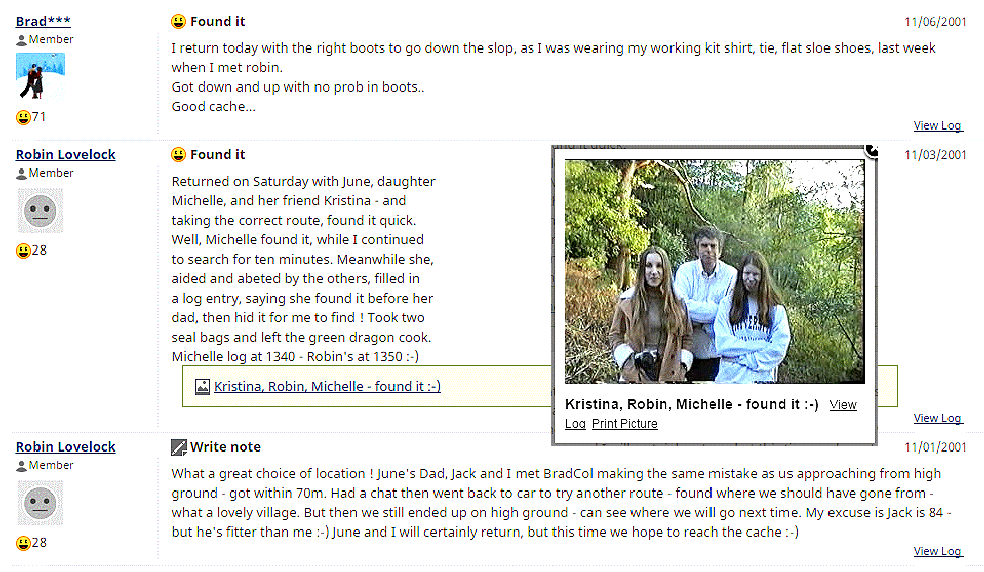 - and here are those actual log book written entries ....... :-)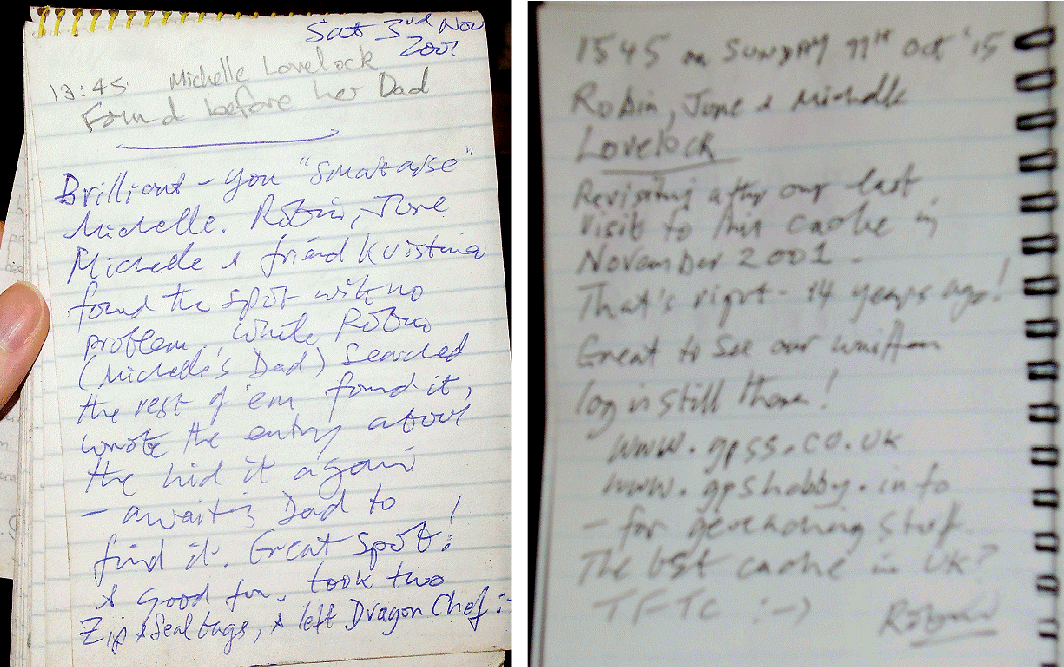 30th November 2015: We had to visit our first cache find: "The Queen's Oak". Our old log book entry was still there - from August 2001 ! We are stood where it was then :-)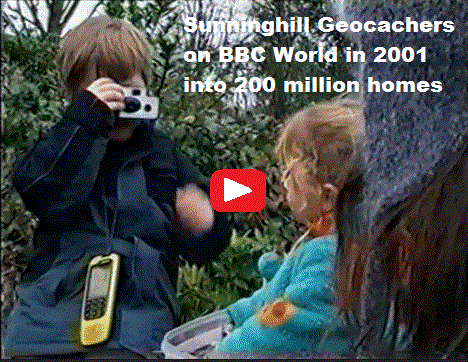 13th February 2018: Richard Peat sent me a brilliant video that we just need to find in good quality, like an old VHS tape. About 3m 20 secs in, there is a fantastic 2 minutes of them at their Finchamstead cache. Chris Packam can be recognised. Check out the Old Poor Quality Video - we just need a better copy ! :-)
I thought I would have to find an old copy of Microsoft Office, to make a PowerPoint Briefing, as a .PPT file to put here. However, found one on this PC, about NHSCare.info, for a Rotary Club, made on 24th August 2009, and it was done with Open Office. So here is a test to see if you can see it. It starts with the first slide below, then follows with the slides of my old briefing. I will obviously need to go up a learning curve ! See Draft Talk on Geocaching .
15th February 2018 I was very pleased to find this old video from 2001 on VHS: Sunninghill Geocaching Superstars on BBC World TV :-)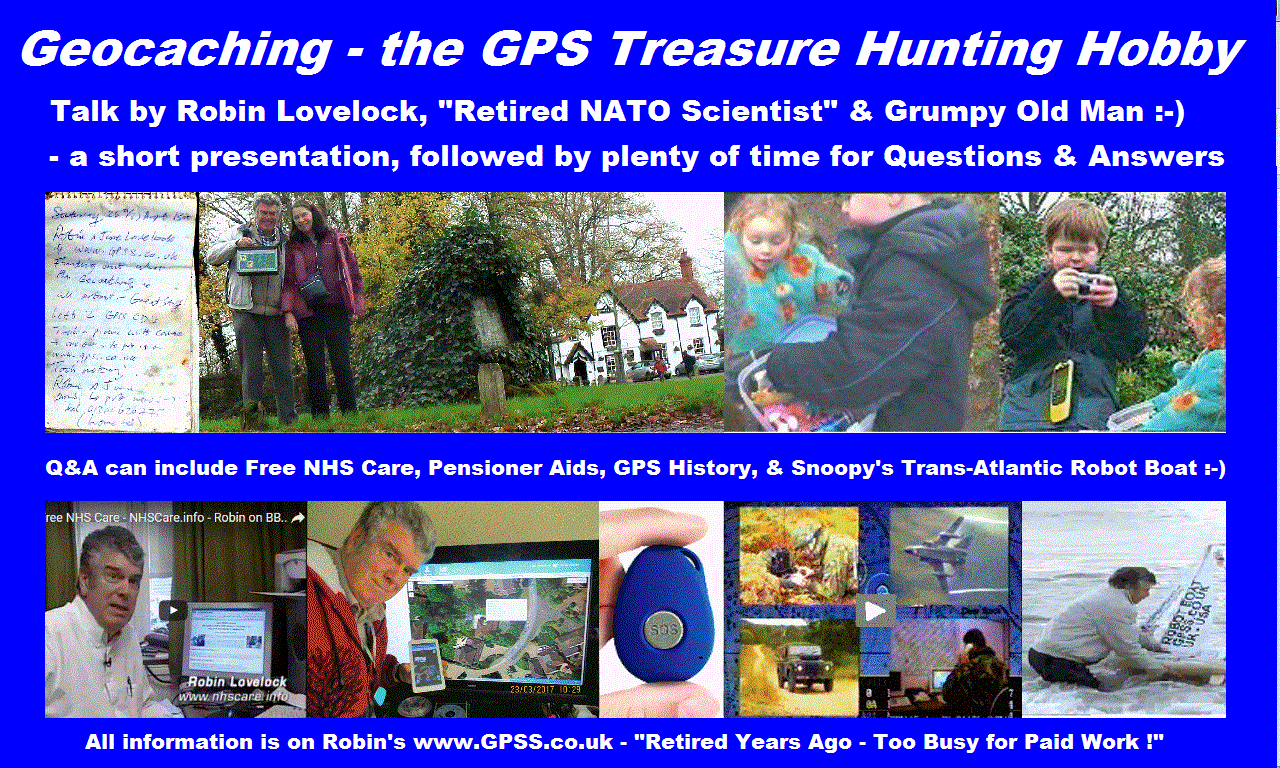 Draft of Slide 2 ... should save quite a bit of talking :-)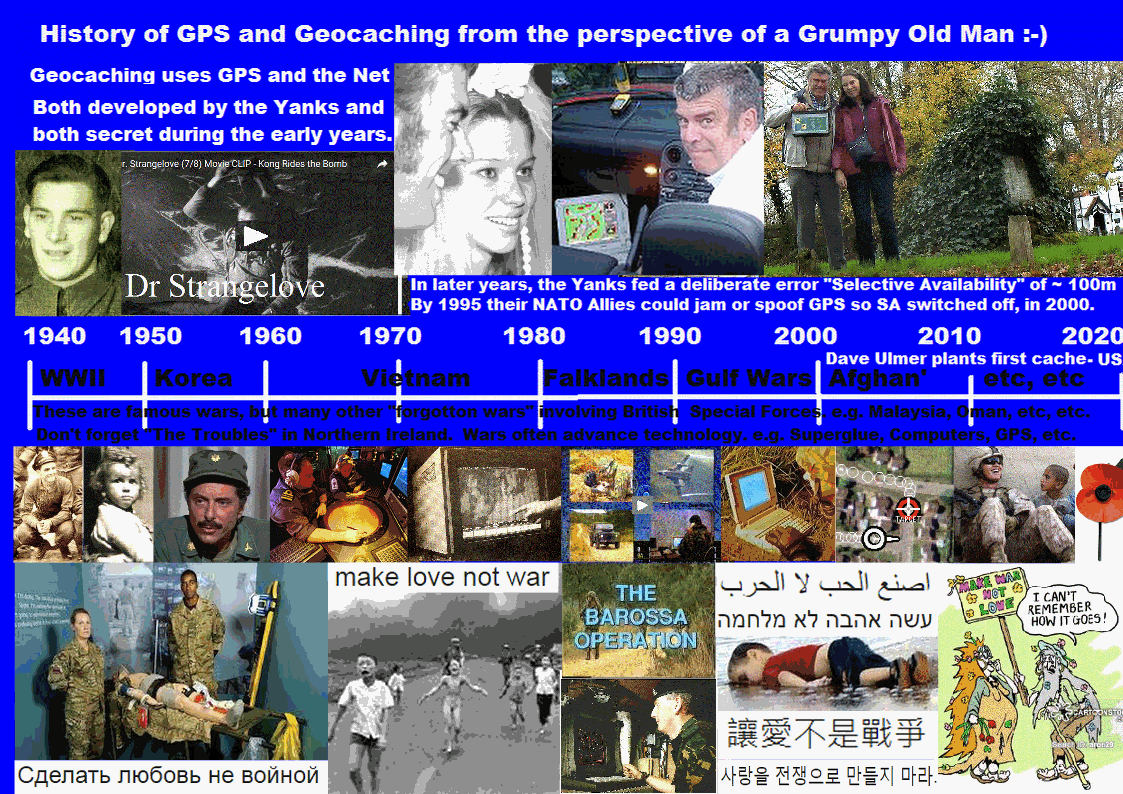 The next slide looks at events from 2000 until now. e.g. the vastly increased number of geocaches, including "micros" :-(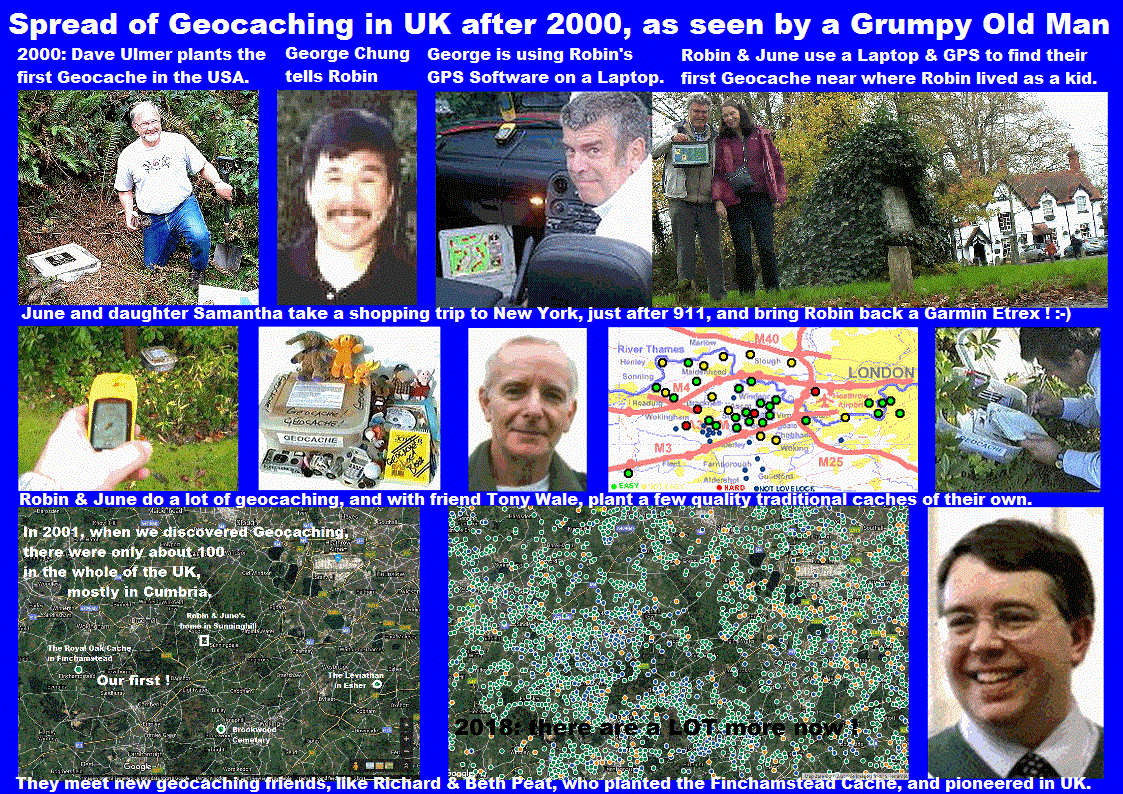 There have been

visitors to this page since 4th April 2016. We never bothered to count before then :-)