This page was created in 2002, but see the 2016 footnotes at the end.

"The Bigger Garden" - AMRA Amenity Area
Thursday 6th June 2002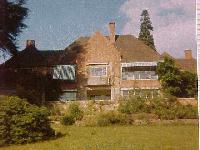 AMRA was originally formed, in late 1970s to take control of the Amenity Area (our "bigger garden") from Charles Church, the builders. These two old pictures were taken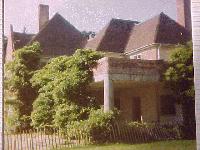 by me when we visited the site back in 1977 (?) and shows the old, original "Armitage Court" house, knocked down soon after by Charles Church. The old house looked down over a large sloping lawn, down to the pond at the bottom. This now forms our "AMRA Amenity Area". It is obviously of greater importance to those who border it, but is sufficiently large and "wild" to be of interest to all of us. Perhaps an occasional evening walk to look for wildlife, or to show children how to catch tadpoles or newts from the pond. The large pond is the main reason why children must be accompanied by an adult, and the gates are kept locked.


The Pond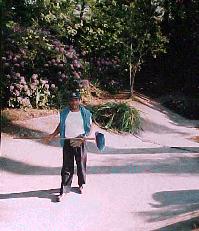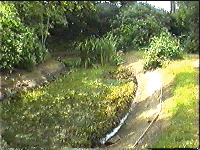 Many of us would like to see this pond restored to the healthy state it was in for many years, before and after Armitage & Murray Courts were built in 1977. It was then full, and teaming with wildlife including newts, frogs, toads and dragonfly - even some goldfish that I put in - 'cos they were "breeding like rabbits" in my pond. I Think it was in May '97 ago that Mike Coombes, Patrick Peters and others completely emptied, cleaned out, fixed leaks, then filled the pond - but the water level dropped not long after. On the left is a picture I found in the AMRA file, showing Patrick and a very clean pond :-) My early theory was that natural drainage off the slope used to "top-up" the pond, but in recent years, debris and the "cane forest" was preventing this. - That's what I thought, before taking a closer look: a crack had appeared at the Murray Court "overflow" end - which ran down towards the bottom. Last year, after the 2000 Barbecue, in a "fit of enthusiasm", I spent a few hours over the weeks, draining the few inches of water remaining, by use of hoses "siphoning off" - kindly loaned from Patrick Peters, Pat & Brian Burgess, and Julian Rand. The crack, and other suspect "expansion joints" were then filled with a suitable flexible mastic. A "marginal rail" of end-to-end bamboo canes, anchored by blobs of concrete, was introduced to stop marginal plants and soil - including the muck we rake from middle, sliding back into middle of pond.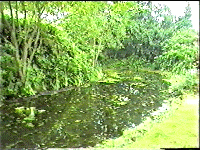 The "island" of yellow flag (wild iris) were scattered along the far bank - hopefully they will take OK. My over-stocked garden ponds have donated water forget-me-not and creeping-jenny along the near bank, and a number of large water lilly plants - that I believe originated from this pond anyway. There was only one lilly before, which is now at the overflow end. I also popped in the cheapest fish I could get - to see if they would survive - 4 golden orfe, and 10 small goldfish. There is now a "Heron Fence" : a single stand of wire, supported on bamboo sticks (painted black to hide them) should keep the heron away (seems to work in my garden - the heron does not land in the water - but walks up to the edge - feels the wire - and flies off. That's the theory anyway :-) A shallow trench was dug along the edge of the slope, and big rhododendron area, down to the pond. This is to encourage water to run off the large sloping area, into the pond, rather than into the rhododendrons - and cane forest, which is also springing up here. I've put some sodium-chloride weed-killer (carefully) onto the cane forest near the pond (have to be careful it does not enter and poison the fish).
This has all been a bit of a minimum cost, minimum effort "experiment", but it seems to be working: the water is holding its level and the plants are growing. We might now consider more ambitious plans, like more fish, and a means of circulating the water, to reduce that duck-weed building up (the teeny-weeny leaves that live on the surface).
Goal is a self-maintaining, balanced pond, stocked with plants and wildlife occurring naturally in UK - with possible exception of the fish, creeping-jenny & lilies.
Our New Lawnmower... £20 per cut :-)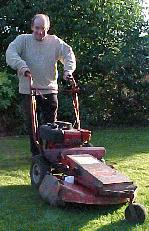 On the right is John Williams, proudly pushing our bigger lawn mower. It only cost AMRA £100, second-hand, and now we just need some more (paid) volunteers to cut the amenity area several times a year. The mower seems to go well - did my front lawn in about 30 seconds, and we have now had three people take their turn in "doing their cut" in return for an "honorary payment" of £20 from AMRA funds.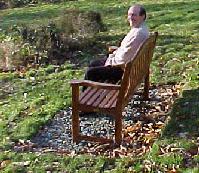 Robin managed to cut the Amenity Area in just a little over an hour, but suggests you allow 1.5 hours "door to door". The mower is currently kept in Robin's garage, and can be collected any time but whoever is doing the job next. This is not a suitable job for young boys - despite the good pocket money. Will probably need a disclaimer in writing, to cover things like it running out of control and dragging you into the pond :-) In 1999 the previous committee decided to celibrate the new millennium with a suitable wooden seat. We now have it, suitably inscribed, and located at the top of the Amenity Area grass slope. Here is John checking it out :-)

AMRA AMENITY AREA
VANDALS or "JUST KIDS" ? THE POND, GRASS MOWING.
There are signs of "kids at play" and petty vanalism in the Amenity area. The millienium bench was turned over - but easily righted. The shed has had its window removed and the door taken off hinges. Nothing of value inside, of course. Others have seen kids from outside the area "kicking their heels" in Armitage Court. We were all young once, and probably did similar things without thinking - a quiet friendly word like "I know where you live" is often all that is needed to deter far worse things. Our £100 mower is doing a grand job, managed by Adam, Juliet's son at £20 a cut. For the moment it is kept at 22AC, Robin's place - cos the shed too small. Wildlife expected in the pond this year includes: forget-me-not, marsh marigold, lillies, yellow flag, bullrush, newts, frogs, toads, and fish.
(above was from 2002)
August 2016 Footnote - The AMRA Pond ...
Robin, with Mike's help, added a little cement, water, 5 water lillies, 120 red piranha, 14 grass carp, and a duck house. Let's see what happens ...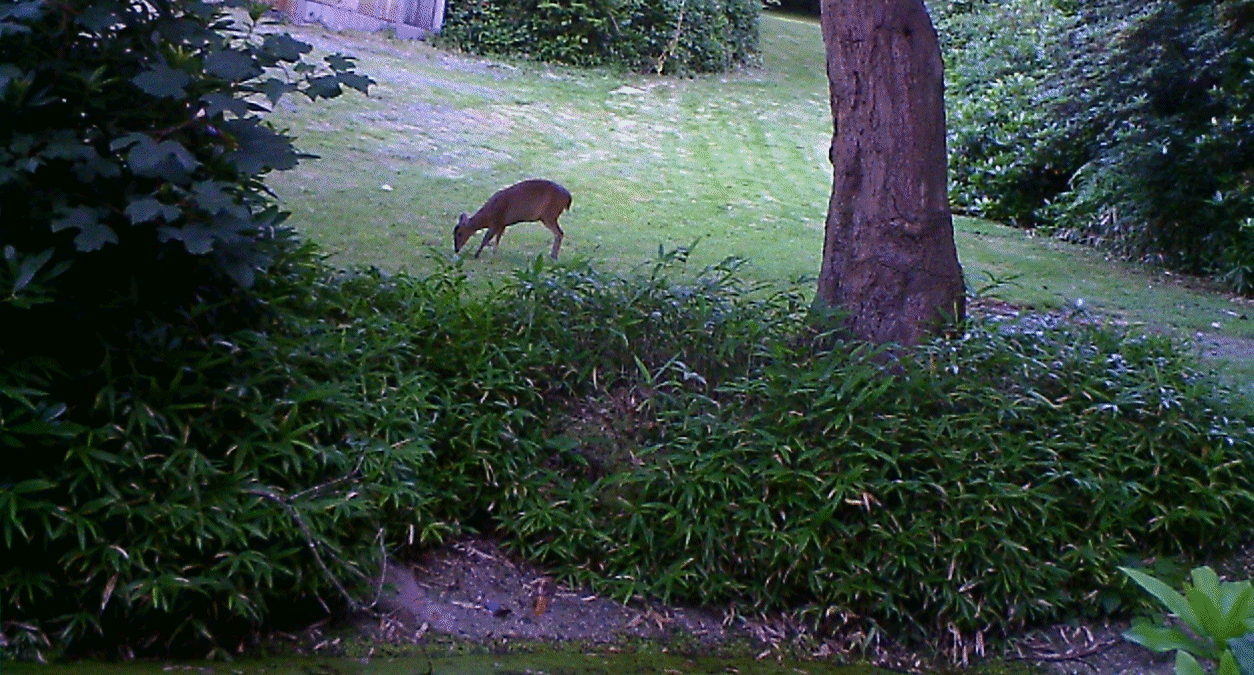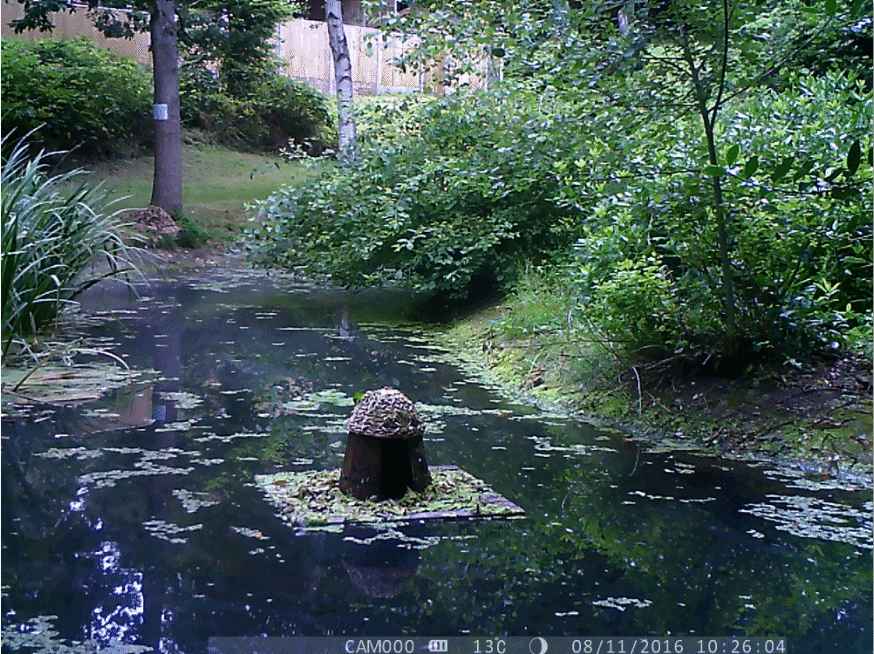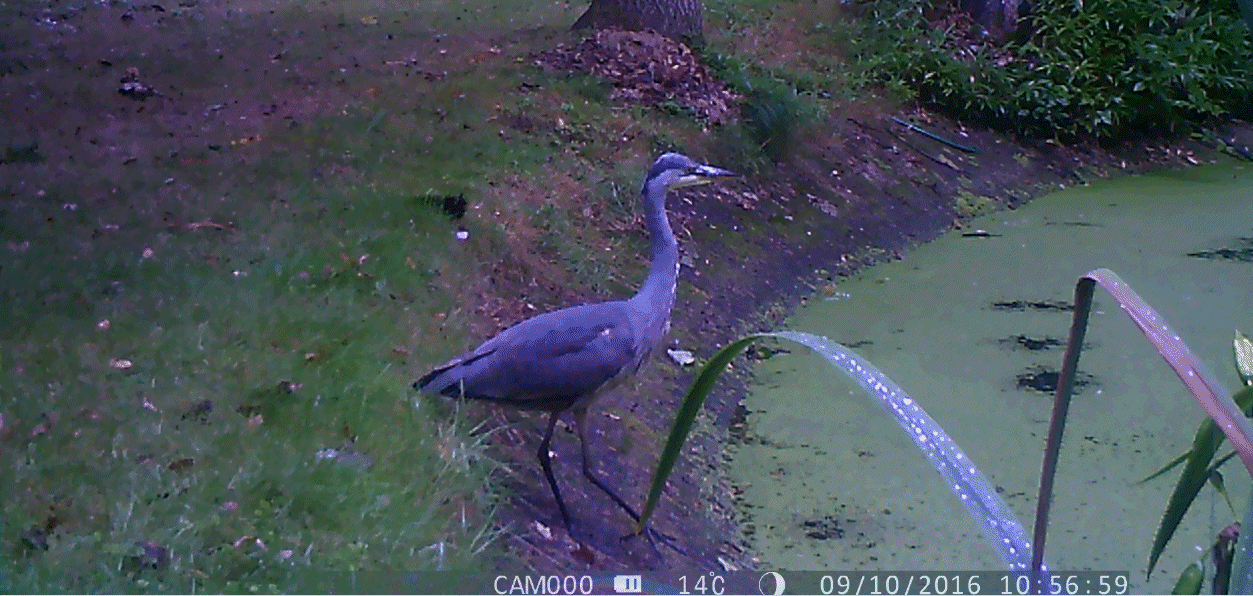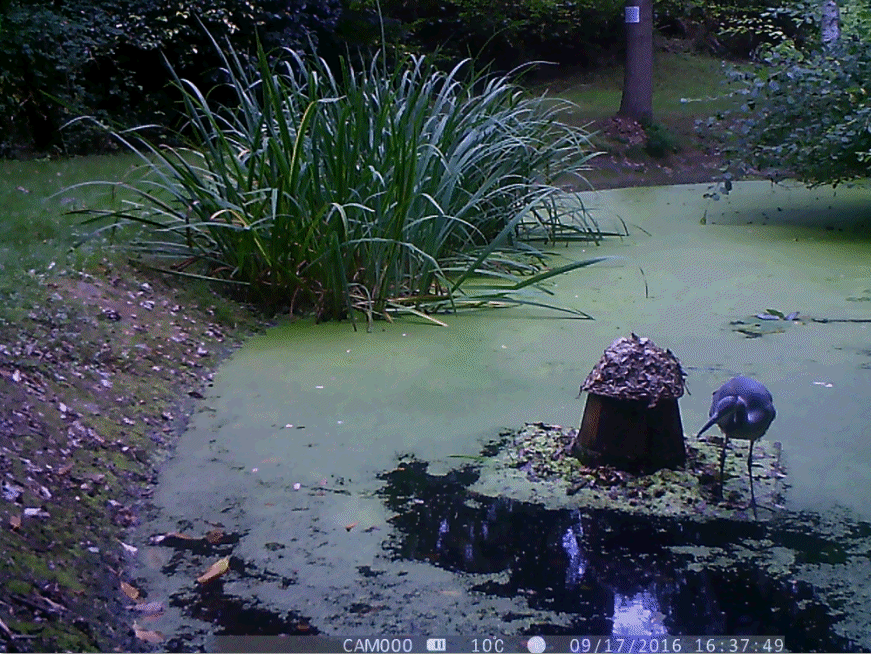 August 2016: the water still drops to about a foot below the overflow, despite patching the cracks. However, this may be due to evaporation or a crack in the bottom that would not be economic to fix. It would also increase concerns over safety. Let's continue to watch how the wildlife continues, and if those fish survive the heron ! The main work remaining is to clear some of those brambles and bushes near the edge - and that duckweed. I've added 14 small grass carp, who are supposed to eat it. I understand that, unlike red piranha (easily mistaken for goldfish), they have a veggy diet :-)


September 2016: our wildlife camera caught the heron on one occasion, and it looks as if he did not catch anything. I glimpsed him at the same spot, a few weeks earlier, and he flew off - mobbed by crows ! The duck weed has grown rapidly, covering the pond, and it seems the grass carp don't eat it. The only way I've prevented duck weed in my small ponds is to create a current with a pond pump - not practical without electricity. Solar panels ? Pictures of our local human fishermen are not shown here :-)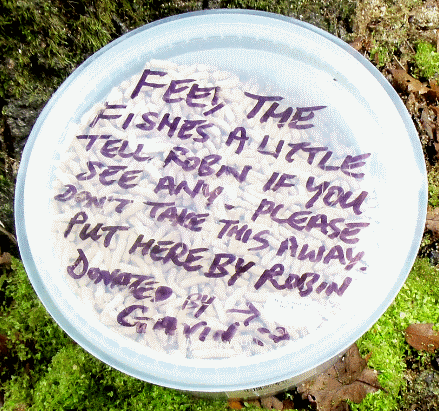 November 2016: I was humbled by those nice words in the AMRA 2016 Newsletter, and just LOVED the choice of picture from my TAM page :-) Gavin, AMRA Chairman, donated some tubs of fishfood, and I deployed these, with a suitable message on the lid. I was delighted to see the clearance work, in that "jungle" of rhodos. There is also a nice big pile, waiting for a bonfire. This year we will NOT use petrol to start it: last time it rattled the windows on all our houses :-)